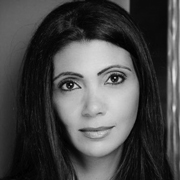 Reham Alexander
Director of Global Operations and Events
Reham Alexander is the director of global operations and events for the Creative Class Group. She handles client relations for all consulting projects and management of domestic and international speaking engagements.
She works with a wide array of clientele to stage large scale, high profile events around the world, APEC CEO Summit with President Obama and Hillary Rodham Clinton in Hawaii, Creativity Conference with President Clinton in Washington D.C., Global Cities Forum in Abu Dhabi with heads of state, annual CityLab events in partnership with Bloomberg Philanthropies, The Atlantic and The Aspen Institute to bring together over 300 of the world's top mayors and the Asia Pacific Cities Summit in Korea with over 1,000 delegates and mayors from over 150 cities worldwide just to name a few. Clients include Fortune 100 companies, high level government, education, healthcare, nonprofit and economic development organizations. Project management on consulting engagements for BMW, Converse, Starwood, IBM, Philips, Cirque du Soleil, Audi, Pinewood Studios, Zappos, Kraft and Johnson & Johnson just to name a few.  She also manages all social media and publishing efforts.
Reham received her bachelor's degree from the University of Michigan with a double major in Political Science and Communications and post-graduate work at Wayne State University. Reham has a background in advertising and marketing and has worked as a freelance corporate consultant for the past several years. She was a contributor for her local Fox 2 affiliate and a long time columnist for the Detroit News, Calgary Sun and the Record.