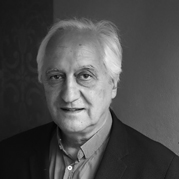 Charles Landry is an expert speaker on the art of city building, incorporating a global perspective on education, art and architecture. He helps cities reach their potential by triggering their imagination and thinking. Working closely with decision makers and local leaders and acting as a critical friend, he inspires, facilitates and stimulates, so cities can transform for the better. Charles helps find original solutions to seemingly intractable urban dilemmas such as marrying innovation and tradition, balancing wealth creation and social cohesiveness, or local distinctiveness and a global orientation. Seen as an international authority on creativity and city futures, Landry focuses on how the culture of a place can invigorate and revitalize the economy, enhancing the sense of self and confidence.
In 1978, he founded Comedia, a highly respected European consultancy working in creativity, culture and urban change. Charles has lectured in over 50 countries across the globe and has completed projects in many of these, from the wealthy to those less fortunate, including Australia, Bosnia, Bulgaria, Canada, Croatia, Dubai, Finland, Germany, Hong Kong, Italy, Japan, Malaysia, Netherlands, New Zealand, Norway, Poland, Russia, South Africa, Spain, Sweden, Taiwan, Ukraine, USA and Yemen.
Charles works collaboratively with clients by participating in and helping to orchestrate events, through shorter and longer term residences, deeper involvement over extended time periods, and by undertaking specific tasks. The work ranges from projects to revitalize public, social and economic life through cultural activity, to visionary city and regional strategies or rethinking assets and potential.
Charles Landry has published extensively and his two books on city-making, The Art of City Making (2006) and The Creative City: A toolkit for Urban Innovators (2000), both received widespread acclaim. His most recent book (2008) Intercultural City: Planning for Diversity Advantage was co-written with Phil Wood.